Parking Regulations
Bylaw Enforcement Notices
Parking enforcement is done by the City's Bylaws Division. A Bylaw Enforcement Notice (ticket) issued by an officer can be paid online on the Bylaw Enforcement Notice Payments page.
Bylaw Enforcement Notices, Disputes & Adjudication
Bylaw Enforcement Notices (tickets) must be paid or disputed within 14 days of the date the ticket is issued. If you do not pay or dispute in time, the full ticket penalty becomes immediately payable. Visit our Bylaw Enforcement Notices, Disputes & Adjudication page for more information.
Pay Parking Stations
Pay parking is in effect in several locations in Coquitlam to provide a turnover when demand is high.
Pay for Parking at the Machine
You can use cash or credit card to pay for parking at the pay stations. If a pay station is not working, please proceed to the next working pay station and contact us to have the station fixed as soon as possible.
Pay for Parking using Flowbird App
Running late? Use Flowbird on your mobile device or computer, wherever you are! The City is immediately alerted of your payment.
Parking Regulations
Free on-street parking for the temporary parking of vehicles, where provided, is a privilege granted to all road users. To facilitate the safe and efficient movement of emergency vehicles, pedestrians, cyclists and motorists on our public streets, the City has Bylaw regulations that restrict vehicles from parking too close to fire hydrants, intersections, crosswalks or driveways (refer to Parking Restrictions handout, summarizing key parking restrictions in Coquitlam). These regulations apply City-wide even when there are no signs and vehicles parked in restricted areas or in a prohibited manner may be subject to a fine and/or towed away.
Other Important Info
Vehicles parked on the sidewalk or overhanging the sidewalk are a risk to pedestrian safety. A pedestrian may have to enter onto the roadway to pass.
Angle parking is only permitted where road signs and paint markings indicate. In all other locations, including cul-de-sacs, parking must be parallel to the curb.
Storage of vehicles on the street for longer than 48 hours is not permitted. Vehicles must be moved regularly from on-street parking or parked on private property if they will not be moved within a 48 hour time frame.
Unattached trailers are not permitted to be parked on the street or boulevard. Trailers must remain attached to a vehicle capable of towing them or be parked on private property if not attached to a vehicle.
Vehicles with a gross vehicle weight (GVW) of 4500 kg or more can only park in industrial zones in the City.
Parking at Evergreen SkyTrain Stations
The City of Coquitlam has a number of parking options for commuters around SkyTrain stations, which include hundreds of Park and Ride parking spots throughout Coquitlam's City Centre.
Street parking regulations include timed parking restrictions and paid parking to ensure ongoing access parking to residential areas, local businesses, and civic centres.
Below are parking regulations maps for each station area that show the regulations in place.
View an online map of the on-street pay parking and park-and-ride locations (select "Transportation" followed by "Pay Parking" and/or "Parking and Ride locations.)
Parking for Persons with Disabilities & Veterans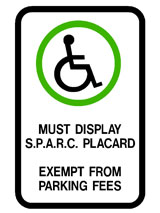 Vehicles are exempt from parking fees in City lots when the vehicle displays a Social Planning and Research Council (S.P.A.R.C.) placard and is parked in a spot designated for persons with disabilities. If a designated spot is not available then regular parking fees apply. The City is currently monitoring the usage of these parking spots and will increase the number if warranted. There are currently designated spots for persons with disabilities at the four City pay parking facilities:
City Centre Aquatic Complex - 6 designated parking spots, 2 drop off spots for persons with disabilities, and 3 designated spots for the physio clinic.
Evergreen Cultural Centre - 3 designated parking spots, 1 drop off spot for persons with disabilities.
Lincoln/Westwood Parking Lot - 4 designated parking spots.
Pinetree Community Centre - 4 designated parking spots, 1 drop off spot for persons with disabilities.
Parking is free at all times for vehicles displaying a veteran's licence plate, but any relevant time restrictions would continue to apply.
Parking Passes
Pass Details
A one-year parking pass (from date of purchase) is available to Coquitlam residents for $30 and is valid for use in the parking lots at:
City Centre Aquatic Complex
Pinetree Community Centre
Evergreen Cultural Centre
Please note that the pass exempts passholders from parking fees but not the maximum time restrictions at these lots. The parking passes are also not valid for on-street, pay and/or restricted parking.
Buying Your Pass
Passes can be purchased at the City Centre Aquatic Complex, Pinetree Community Centre, or at Revenue Services in City Hall.
Purchasers must provide proof of residency, a vehicle registration, and a driver's licence.
Passes are non-refundable but may be transferred (fees may apply; see below).
Transferring Your Pass
Your pass shows your vehicle's licence plate number. Passes may be transferred for free to another vehicle with the same licence plate number, registered owner, and address.
If your licence plate changes, you will need to obtain a new pass. A transfer fee applies. You will also be required to surrender your old pass and provide insurance documents for the new vehicle.