Poirier Sport & Leisure Complex
Poirier Sport & Leisure Complex
Amenities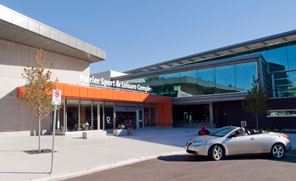 The Poirier Sport and Leisure Complex is a 190,000-square-foot, ice and fitness facility with:
Diving boards
Indoor fitness track – currently not available
Lap pool
Leisure-therapy pool
Number of accessible features
Relaxation area with whirlpool – currently not available
Steam room and dry sauna – currently not available
It offers a variety of ice skating, aquatic, fitness and dry floor programs, as well as pre-registered drop-in classes. It's also home to the Coquitlam Sports Hall of Fame, great amateur, championship-level hockey and lacrosse, as well as a licensed café.
Hours of Operation
7 days a week, 6:30 a.m. – 11:30 a.m. | 3:30 p.m. – 8:30 p.m.
We have a number of pre-registered drop-ins available, including length swimming, public skating and stick, ring & puck, in addition to registered fitness and recreation programs.The fitness and weight room drop-in sessions are 1-hour duration and the pool drop-in sessions are 40 minutes. Registration for drop-in activities is available 24 hours in advance.
Pre-registered Drop-in Fees

$1 for child/youth and senior

$2 per adult

$5 per family (group of 6)
To register for a course, reserve lane or for more details, please visit the Registration web page.
Sensory-Friendly Swim
An all-inclusive swim for anyone with sensory issues or those looking for a quieter swim. Sessions are 40 minutes long for a leisure swim in the pool. Music, water features and hot areas will be off and not be available for the duration of the swim.
To register, visit the Registration web page and click Register for Programs. In the registration system, go to the Drop In section and click Swimming. Expand the Drop In Swimming Public Swim dropdown and look for PSLC Individual Leisure Swim: Sensory-Friendly to sign up.
New Facility Entrances
To protect the health of users' and staff and to limit the number of human interactions, each program is using a separate entrance. View the Map (PDF).
Fitness Centre Information
See the lit of the Fitness Centre Equipment (PDF) available.
Physical distancing will be enforced at all times in our Fitness Centres.
Our friendly weight room attendants will be available at all times to ensure that everybody is keeping their distance and staying safe.
Equipment is spaced at least 6 feet apart to ensure a safe distance between participants. See available Fitness Equipment.
One-way travel has been implemented in narrow walkways.
Staff will wear masks whenever they cannot maintain a physical distance from each other or visitors.
Mask-use by visitors will be recommended, but at this time will not be required.
Note: Fitness Centre users must be 16 yrs+.
General Guidelines for Using the Fitness Centre
Pre-registered weight room drop-ins are 60 minutes long – max. 10 people per session. Appointments can be made up to 24 hours in advance and must be prepaid online or by phone.
Arrive 5 – 10 minutes before your scheduled appointment.
Arrive in your workout attire with a full water bottle – no access to change rooms, lockers or water fountains.
Follow all posted signage.
Maintain 6 feet distance from other participants at all times.
Avoid setting up too close to other users when using free weights.
No spotting – please select weights that can be safely lifted without the use of a spotter.
New Change Rooms for Arena Three
New player and referee change rooms will be added to Arena Three with the purpose of improving function and user experiences. The 4,150-square-foot (386-square metre) addition on the facility's south side will house four new player change rooms and two referee change rooms, complete with showers and washrooms. The addition is expected to be ready for use by the fall 2020 ice season.
Construction is set to begin Monday, February 24. Check back here for ongoing construction updates throughout the project.
Learn to Skate
New to skating? Review these frequently asked questions (PDF) before you start.
Personal Training
Whether you are new to the gym or an experienced fitness lover, a personal trainer can teach you new exercises, keep you motivated and working out effectively and efficiently.
Rental Information
We have rental space available for meetings, family celebrations and social opportunities. For more information phone 604-927-4386 (press 4) or email Bookings. If you prefer, view our Room Rentals page for more information.
Low & No-Cost Programs
Looking for a more affordable way to become more physically active? We've got lots of Low & No-Cost Programs to keep active.