Migration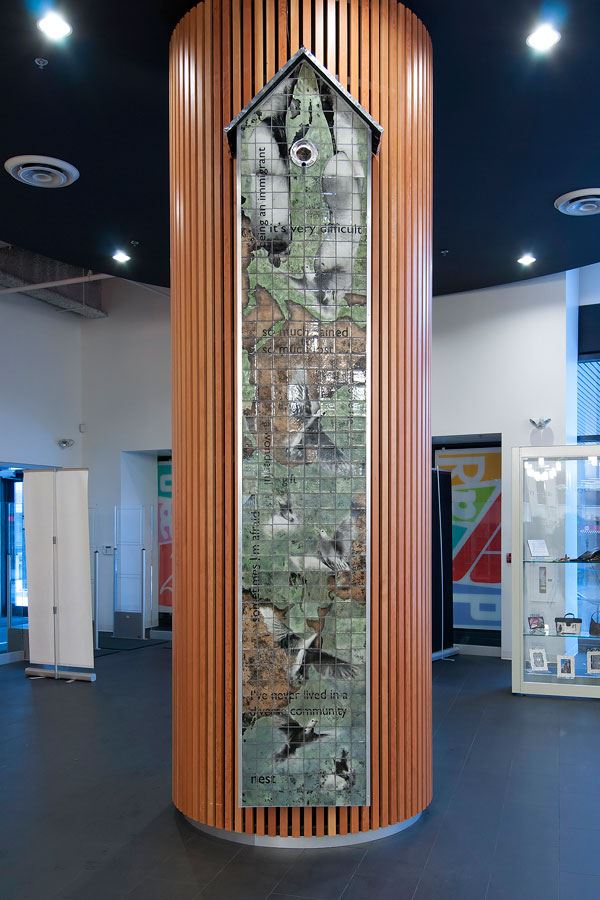 Media
Printed, painted glass and other mixed media
Artist
Blake Williams
Location
Coquitlam Public Library, City Centre Branch
Date
December, 2013
Statement of Significance
"Migration" represents the flow of humanity which has taken place since the beginning of time. The piece, by artist Blake Williams, reflects the thoughts and perceptions of workshop participants who have migrated from another country and now live in Coquitlam.
Background
The project was created through joint funding from the City of Coquitlam and the Province of British Columbia's EmbraceBC. The EmbraceBC mandate was to explore the immigrant experience through an art practice. The project's aim was to discover if Coquitlam is a welcoming community and did people experience bigotry, racism and intolerance?
The piece "Migration" was conceived through a series of workshops held during the late 2013 spring. The "Welcome Project" workshops used the medium of collage applied on wooden birdhouses. Each participant was given a pre-assembled birdhouse and they were asked to select images which signified their experience of becoming a Canadian and a Coquitlam resident. Eight workshops held, with a total of 127 participants. Participants were also asked to complete an evaluation form to gain more insight into their immigration experience.
The artist used what he had learned from the workshops and participants to inform the final piece. A grand unveiling of Blake William's final art piece and celebration was held December 5, 2013. View images of the unveiling in our photo gallery. Finally, read the artist's eBook, "The Welcome Project - Migration" for more information about the project, the process and its outcomes.
About the Artist, Blake Williams
Blake Williams is a Vancouver based artist working primarily in public art. He has a background in photography and film with digital studies at Emily Carr University and specialized in photographic training at Langara College.
Recent public works include:
"All Things Intertwined" in Richmond, BC
"Body, Mind, Sprit" in Calgary, Alberta
"Illuminations" in Port Moody, BC
"RISE" in Red Deer, Alberta
In addition, Williams directed a documentary film for CBC Television's series "The Lens" entitled "Lottery on Ice." As well, Williams has completed primary filming for "Secret Fire", a documentary examining spiritual pilgrimage and a music video for Alpha YaYa Diallo plus a number of short personal video projects affecting on family, neighbourhood and community.