Town Centre Park Master Plan
Town Centre Park Master Plan
Town Centre Park Lake Loop Input
As part of the implementation of the Town Centre Master Plan, the City is proposing improvements to the Lake Loop Area at Lafarge Lake. The concept plan includes a number of enhancements aimed at increasing the type of activities, improving accessibility and building capacity, while also enhancing safety and security on the Lake Loop Trail.

Your feedback will help inform the Lake Loop's detailed design, which will be developed over fall 2020 and presented to Council for approval in early 2021. Pending Council approval, construction is anticipated to begin in March 2021.

Take the Survey




Background & Overview
Town Centre Park is one of Coquitlam's largest urban parks at 42 hectares (103 acres). The Town Centre Park is developed to serve both the City Centre neighbourhood and act as a City-wide destination park, while also drawing visitors from across the Tri-Cities area.
Given the anticipated growth in the City and the opening of the Millennium Line Evergreen Extension in 2017, renewing the vision and the overall development plan for this important park is a significant step to maintain the quality of outdoor offerings in the park. The final Town Centre Park Master Plan will provide a practical community based vision and guiding principles, illustrative conceptual plans for future improvements and a phased construction strategy to implement developments to park over the next 15 to 20 years.
Implementation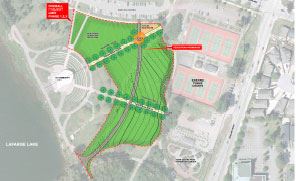 Implementation of the Town Centre Park Master Plan is underway. Recent and current projects are noted in the below sections.
Festival Lawn Expansion
Festival Lawn of approximately 8,000 square metres was added in 2019 east of the TD Community Plaza area, providing increased open space for festivals and events, as well as year-round casual use and programs. A variety of trees were also planted for aesthetics and shade.
Festival Hub
A new Festival Hub will open in summer 2020 between the TD Community Plaza and Festival Lawn areas. The hub will include:
Further enhancements to the lawn, gardens, trails and lighting
New washroom and servery building
Smaller plaza for additional social and gathering space
Lafarge Lake Loop
Staff will present a detailed design, implementation plan and budget to Council in summer 2020 for extensive improvements to the 1.2-kilometre lake loop and surrounding area. Spanning about 23 acres - about a quarter of the park - the project will allow parks users to experience the island for the first time.
Other planned features include:
Lighting
New fully accessible pathways and gathering spaces
Stunning floral displays and substantial new plantings of trees and greenery
Washroom
Wharf
Construction will be phased from 2021 to 2023.